D & A TV Master TV Specialists 
TV Repair and Installation in
Greensboro, North Carolina 
If it hasn't happened to you yet, it will. That flat screen TV or computer monitor you spent your last two pay checks on has just gone black. It is two weeks out of warranty. You call the big box store where you purchased it and they tell you that TV Repair and Flat Screen Repair really are more expensive than they are worth. Just go ahead and drop another grand or more for a new TV or Monitor. That was their "repair" department shilling for retail. So you start looking up Appliance Repair and find out that your local TV Repair is still dealing in tubes. Your next option is to start tossing quarters in a jar and wonder how long before you can get your broken lifestyle fixed. So why spend all that money for a new TV and new warranty which you won't use when you can have your perfectly fine unit working again for about a quarter of the cost of a new unit and land a 90 day warranty for parts and labor?
D & A TV Master has been servicing Greensboro,
High Point
, and
Jamestown, NC
, for over 30 years. We have offered Refrigerator Repair and have had Washers and Dryers up and running in a snap long before flat screen TVs were invented. Even back then, we were the number one pick for TV Repair Service. Today, we are certified for LG TV Repair. And Samsung TV Repair. And Mitsubishi TV Repair. And Toshiba, and… well, in fact, chances are that regardless of the brand, D & A TV Master can fix the problem. D & A TV Master can also take care of issues on all kinds of video devices, from Projection TV Repair to LCD, Plasma, and DLP units. Besides TV repair, D & A TV Master is a whiz at Home Entertainment Installation. Go ahead and call us right away.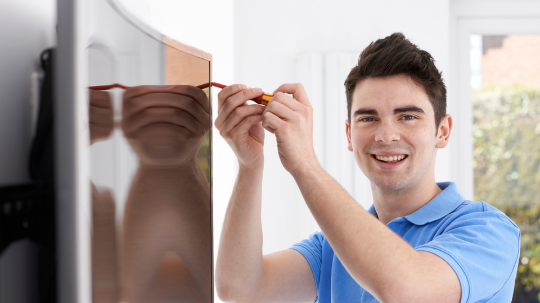 You know you will want the job done right and fast so why use up your time when D & A TV Master can do all the work for you? We can handle the whole package: Blu-Ray, CD, DVD, streaming devices, wall mounts, and all the minor and major adjustments that it takes to have the unit working perfectly. We are a member of NESDA, are bonded, and all our factory trained technicians employees go through a thorough background check.

Yes, we do house calls. Most units can be repaired quickly in your home or business. D & A TV Master warehouses a large selection of factory-direct service parts excluding cracked screens so most repairs are done in a day. For any Televisions Repair Service, D & A TV Master is the way to go.

Book online for an extra 10% off. And yes, that includes all appliance repair calls!

Hours
Mon-Fri: 8am to 5pm 
Sat: 8am to 1pm 
© 2018 All rights reserved.